Cala Gonone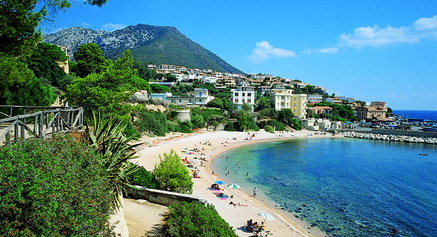 Cala Gonone
, little district of
Dorgali
, from the sixties has become a popular holiday destination at the east coast of Sardinia.
By their arrival at Cala Gonone visitors, after having passed the tunnel connecting Dorgali with the coast, will be amazed by
the spectacular panorama of Cala Gonone and the Orosei gulf
.
Cala Gonone can also be reached from Dorgali, crossing the beautiful Lithu valley on the other side of Monte Irveri. Following the Lithu pass one will arrive at Cala Gonone overlooking the whole coast.
The Supramonte in the territory of Dorgali is a vast area divided into two parts by the State road nbr. 125, also called "Orientale Sarda", which separates the mountainous inland from the sea side.
Cala Gonone is a small seaside resort of austere, unadulterated coastline extending over 40 km, within the Orosei Gulf. Almost entirely devoid of concrete, its beaches – Cala Luna, Cala Sisine and Cala Mariolu – of various sizes, are among the most beautiful in the Mediterranean, interrupted only by coastal towers and harsh limestone cliffs.
The Aquarium of Cala Gonone was inaugurated at the beginning of July in 2010. I ...more

The "Grotte del Bue Marino" - Sea Ox Caves - owe their name to the Sardinia ...more