the canyon Gorroppu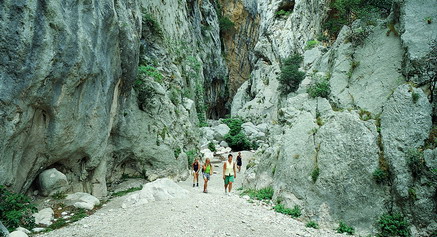 The Supramonte and its mountains are considered a paradise for all those loving trekking, wild flora and fauna. In its inland areas very suggestive natural monuments can be found, such as the Gorruppu Gorge or the mysterious Tiscali nuragic village.
In the mountains of the Supramonte, surrounded by thick forests and wonderful oleander, there is Italy's and Europe's most imposing natural abyss: the Gorges of Su Gorropu, also called Europe's Grand Canyon.
Trekking Trail Gorroppu The gorge of Gorroppu is an immense cleft that separates the mountain crest of the Silana Coast from the cliffs of the Oddeo mountain.
This difficult track leads over steep slate slopes and across wide holm oak forests with green and thick undershrubs and protruding extraordinary specimen of lilac. Here is the undisputed kingdom of the wild boar, which finds in these areas its ideal habitat: ferns, blackberry bushes, mastic trees, huge strawberry trees, and several types of heather make it difficult to proceed.