the village of Tiscali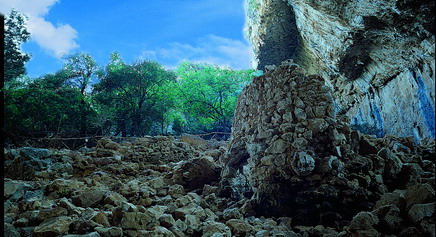 The Supramonte and its mountains are considered a paradise for all those loving trekking, wild flora and fauna. In its inland areas very suggestive natural monuments can be found, such as the Gorruppu Gorge or the mysterious Tiscali nuragic village.
An excursion that combines a discovery tour, silence and unspoilt nature and that brings the visitor back to the dawn of history.
When the weather is fine, especially in springtime, when the Lanaitho Valley sheds the fragrance of asphodels and junipers and the surrounding limestone faces take on unrepeatable colours - according to the day and the daytime -, then an excursion to the Village of Lanaitho is worthwhile.
the remnants of a settlement of the late nuraghic era are situated in a karstic sinkhole. You can see Its little huts which are distributed below the ridge of the dolina after a hike of one hour over rocky peaks. Ragged rocks seem to keep a jealous watch over this interesting place of discovery.